All-In-One WP Business Hours Documentation
July 28, 2021 . 2 min read
Plugin Installation
To install the plugin, first, download the zip file from CodeCanyon and head to Plugins > Add New and upload the zip file. You can read more about plugin installation here:
https://help.mywpdev.com/article/how-to-install-wordpress-plugins/
Once you successfully installed the plugin, activate the plugin.
Add Business Hours
If you correctly installed All-In-One WP Business Hours, you should see a menu added to your dashboard.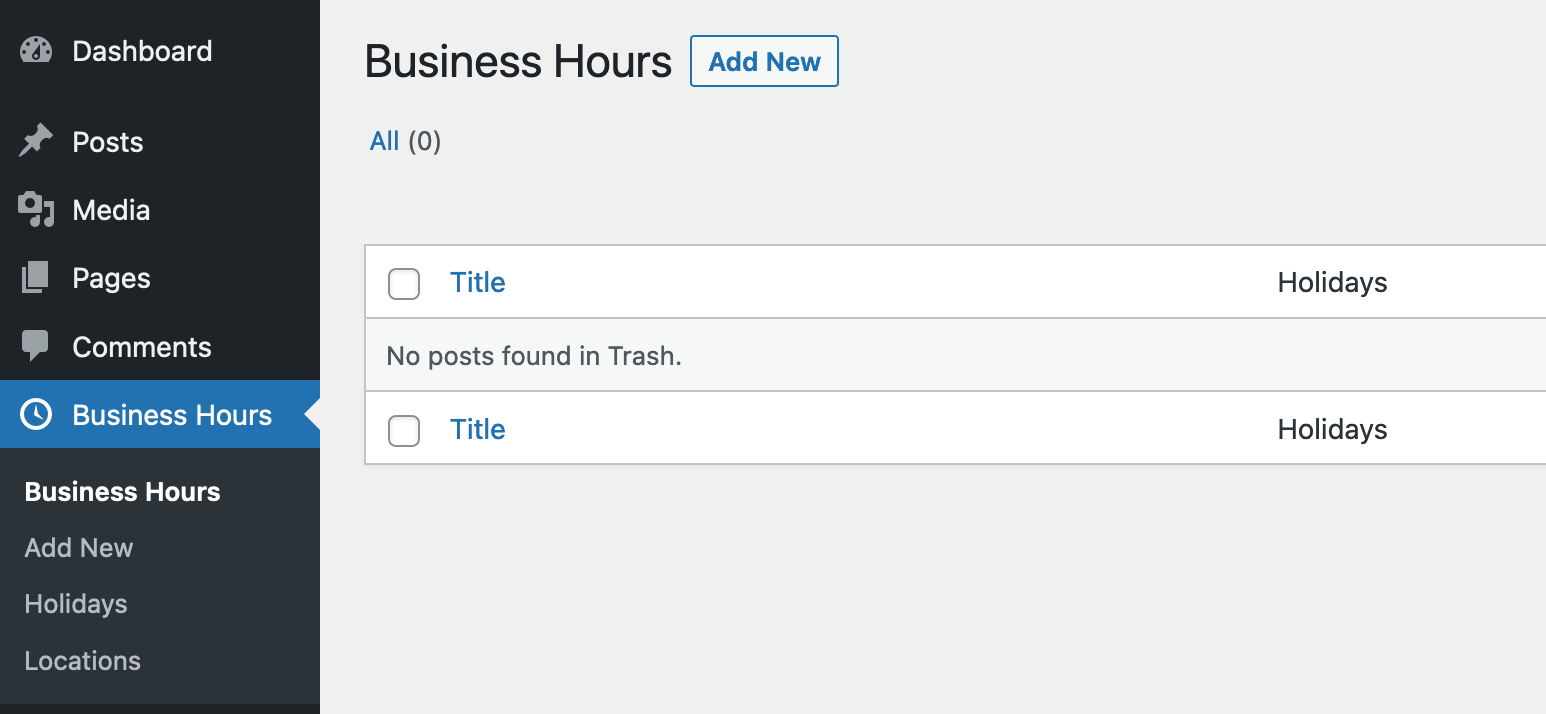 Click Add New to add a new set of business hours. Enter a title for your business hours and follow the following configuration steps:
General
In the general section, you can set the time zone, language, locations, and holidays. If you don't see any locations or holidays don't worry, we will add them later.

Since we are adding CN Tower hours, we selected Canada/Eastern time zone.
The time zones are pre-field and do not depend on WordPress time zone.
Select a language to display the hours, days, month names, and other related words in that particular language.
Messages
Certain messages when displaying business hours can be customized here.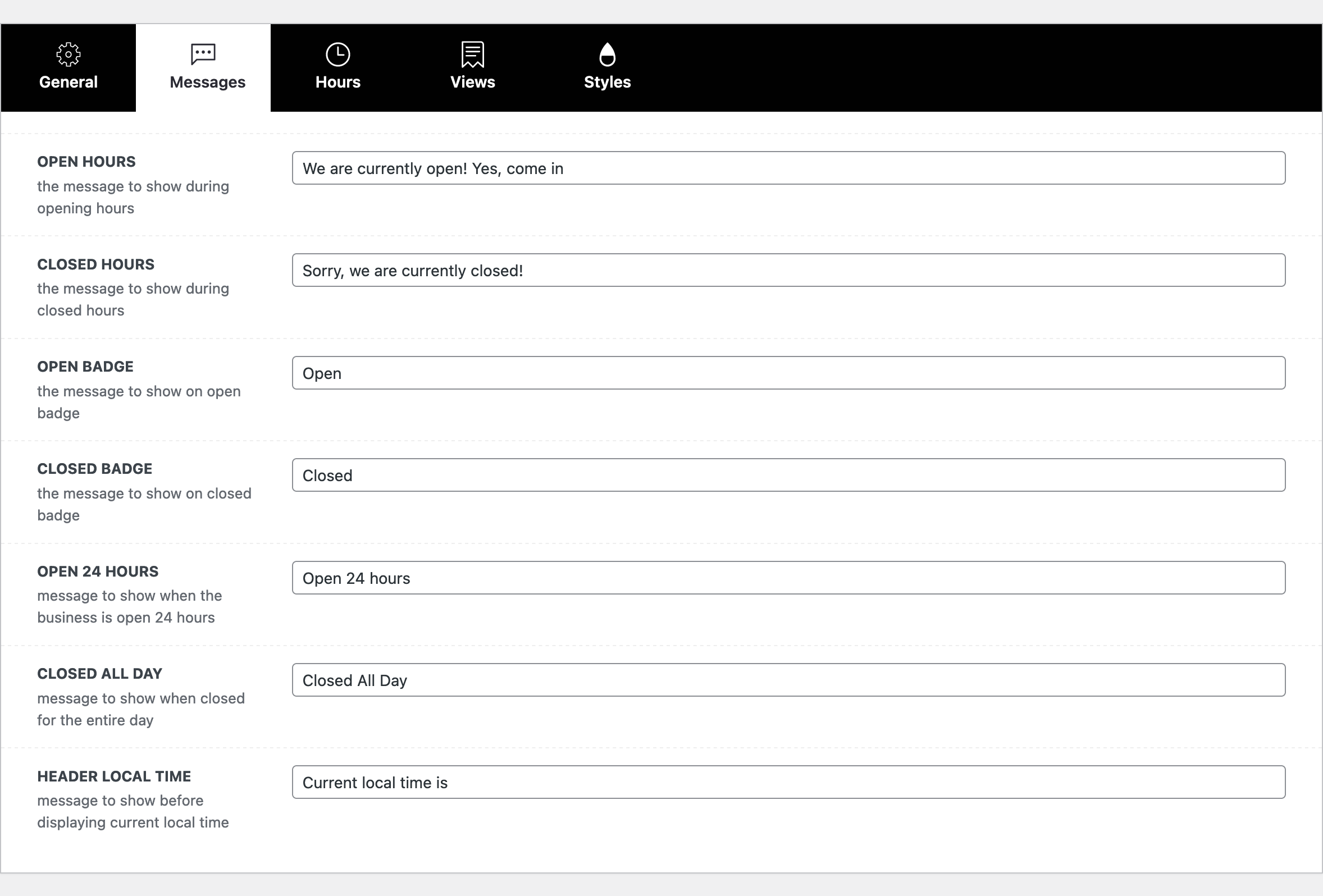 Hours
In this section, you can add multiple hours for every day of the week, mark that day as closed all day, or mark it as open 24-hrs.

Make sure to visit the help centre to view all related questions about hours https://help.mywpdev.com/article/tag/all-in-one-wp-business-hours/
Views
In the view section, you can decide to hide or show location info, shorten weekdays, group days with the same opening and closing hours, and display schema markup.

Styles
In this section, you can copy the shortcode and display business hours in pages, posts, and other areas of your website. You can also find the link to the online style generator to customize and copy the custom css code. Make sure you hit the publish button first, then you should see the shortcode.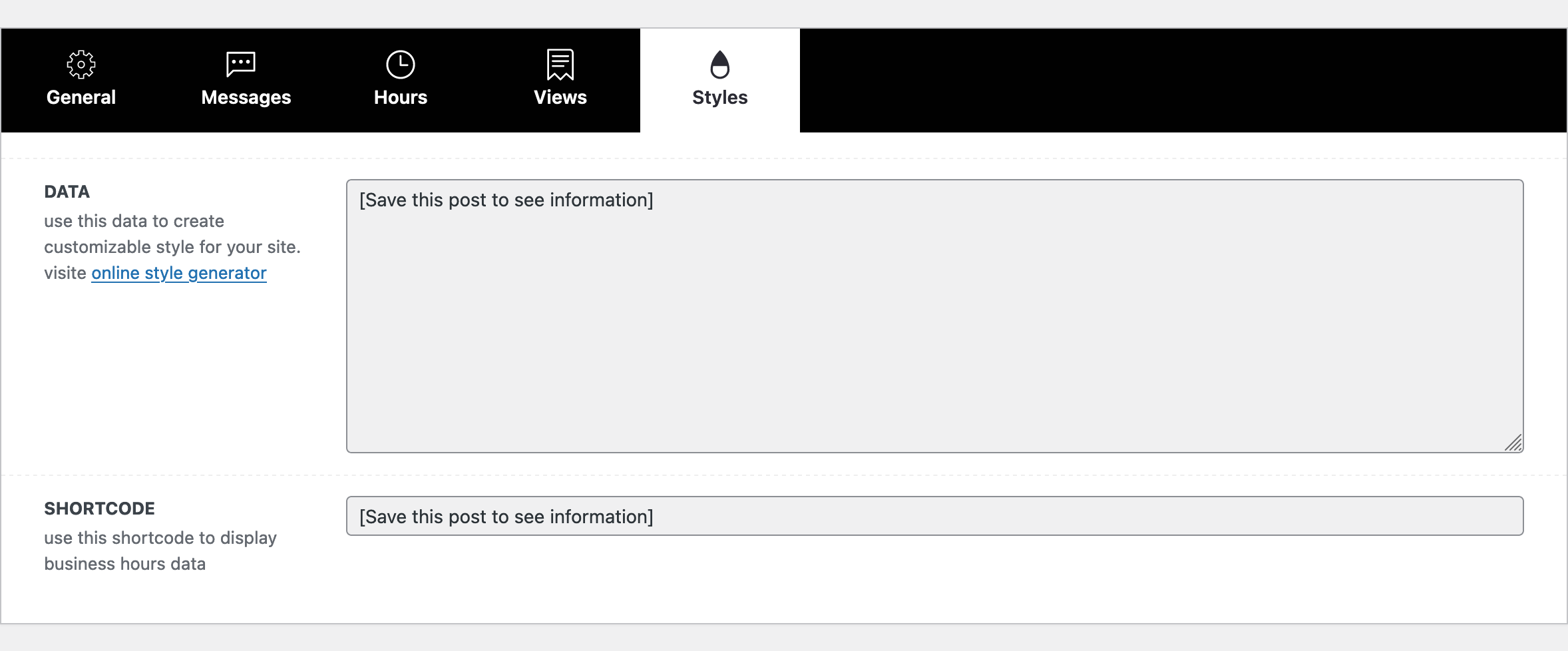 Make sure to visit the help centre to view all related questions about the All-In-One WP Business Hours plugin https://help.mywpdev.com/article/tag/all-in-one-wp-business-hours/